A River's Last Chance - Eel River movie event January 24th at Mendocino College
Is the Potter Valley Project in danger of being decommissioned? Will Russian River water supplies be impacted?
If you are interested in these questions and learning more about the beneficial uses of water and the issues around the Eel and Russian Rivers and the Potter Valley Project, come to see the movie A River's Last Chance at Mendocino College Thursday, January 24, 2019 from 6:30 to 8:30 pm in the Little Theater (building 700).
There is no cost to attend, but due to seating restrictions, registration is required. Please register by Wednesday, January 23 at Mendocino County Farm Bureau. The movie will be followed by a live Q&A panel discussion featuring panelists who appear in the movie.
This is a valuable chance to become informed about the issues and we encourage all Potter Valley stakeholders to attend.
PG&E Announces plans to sell the Potter Valley Project
PG&E Official Notice of Potter Valley Project Sale, May 10, 2018
Current Lake Storage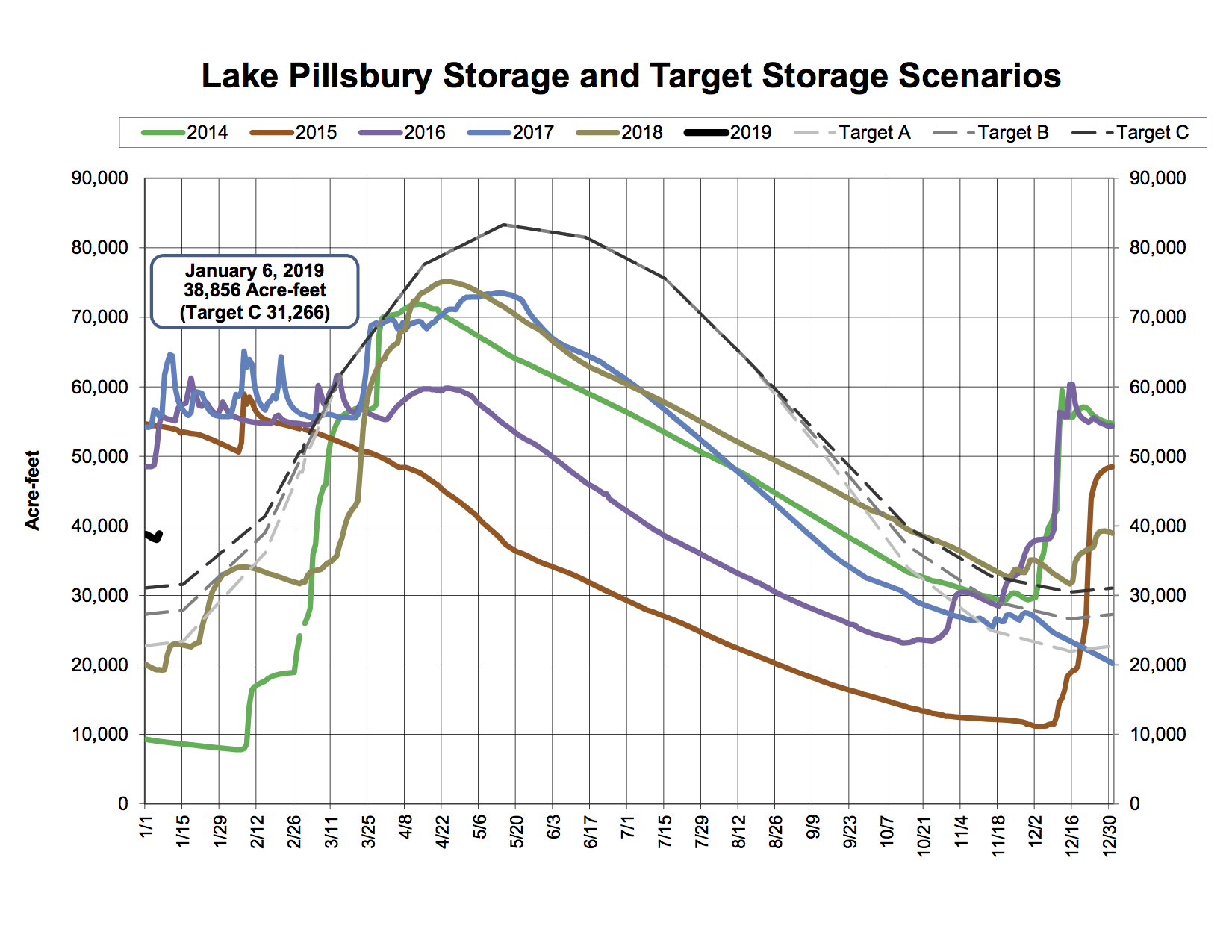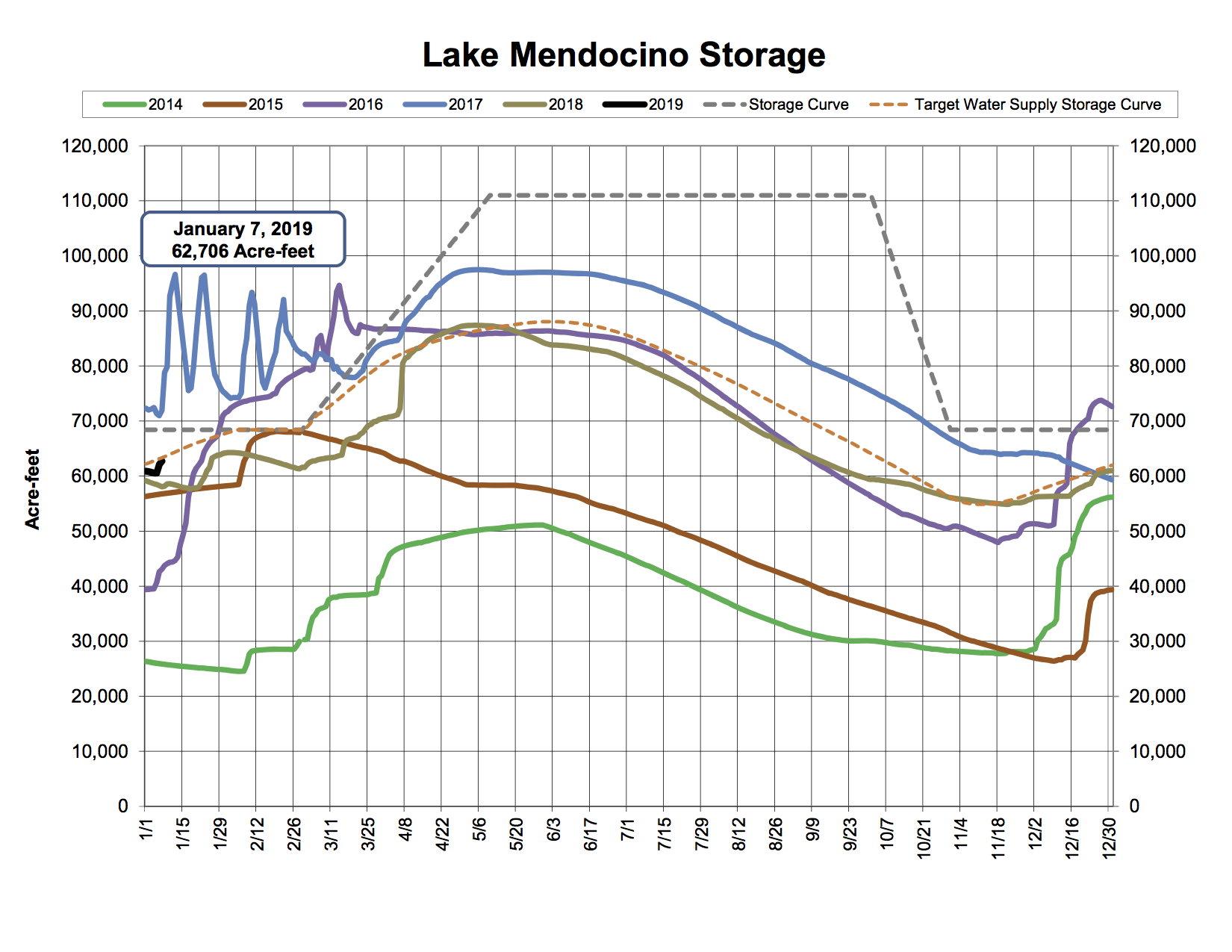 PVID Status Update June 20, 2018
Some years we begin our water season the middle of March following frost season. It was the middle of May before water season got into full swing this year. Frost season was near non-existent, and Lake Pillsbury has filled. Cumulative inflow to Pillsbury has fallen short of the required amount to move us out of the Dry Year Flow Plan. Though flows have been consistently above the minimum requirements below Cape Horn Dam, flows being released through the Project into the East Branch Russian River will remain a maximum of 80 CFS through the summer.
Everyone is talking about PG&E and their decision to divest themselves of the Potter Valley Hydro Project. PVID is fully engaged in this process with other public entities to insure the continued viability of the Potter Valley Project. PG&E is required to continue with the current relicensing process including all studies as required. I will attempt to keep you informed as we move through this process. Keep an eye on our website!
PVID has been extremely busy since it stopped raining. We have installed 660 feet of 18 inch pipe in lateral #36 above and under Hawncreek Road. We are installing 2,140 feet of 18 inch heavy wall PVC pipe in lateral #50 along Main Street. All of this work is being done between customer irrigation demand. Minor repairs are being completed at gates #75, #31, #80, #36-3-4. Hand cleaning of all open ditch laterals is an ongoing process.
I would like to remind everyone that our water rates for 2018 through May of 2019 will remain the same as 2017 as our contract with PG&E stipulates. PVID is paying $10.00 per acre foot and our customers will be charged $12.50 per acre foot.
Just a reminder, please maintain a record of each irrigation, and stay in contact with your Water Tender. A calendar works well for logging the start date & time, and the stop date & time.
Steven Elliott,
Superintendent
PVID Update February 21, 2018
Everyone is aware that we are well below our average rainfall for this time of year. Storage level at Lake Pillsbury is currently at 13.5 feet below the spill crest of Scott Dam. PVID has impressed upon PG&E, the Federal Energy Regulatory Commission (FERC), and members of the Potter Valley Drought Working Group (PVDWG), of which all agree, that weather patterns and snow pack must be analyzed closely in February and March so the gates on Scott Dam can be closed early enough to fill the lake. The mechanics of accomplishing this are varied and too lengthy to explain here. Needless to say, we are working on it. There will be a PVDWG meeting on February 28, 2018 to do just that.
PG&E is currently working with FERC and they have released a Study Plan Determination for the Potter Valley Project Relicensing. This is a 30 page document that addresses the type and extent, of studies that FERC has approved. Go to the PG&E Relicensing website to view this document or visit the PVID website at www.pottervalleywater.org.
The dry weather since January has allowed us to finish the cleanup of our main canals and laterals after the terrible fires and wind storm of October 8, 2017. Our infrastructure improvement plan, if approved by the Board of Directors, will allow for the installation of pipe in approximately 3,000 feet of open ditch laterals along Main Street and Lateral #36. Maintenance projects are ongoing at Busch Creek Flume, Gate #69 and Gate #86-3 just to mention a few. We are also working on our 2018 proposed budget, and preparing for the 2017 financial audit.
PVID would like to commend "Water Solutions" a new local public outreach group of water conscious folks for their efforts to inform the public at large of the Potter Valley Project Relicensing. They were instrumental in setting up the townhall meeting held on January 10, 2018 to inform our local community of the scope of the 5 year PG&E Relicensing process, and how it will affect not only the future of water in Potter Valley on the East Branch of the Russian River, but also south to the ocean at Jenner. This meeting was well attended by more than 150 people.
I would like to remind everyone that our water rates through April 30, 2019 will remain the same as 2017. On May 1, 2019 the rate will be increased. PVID will be paying $15.00 per acre foot and water customers will be paying $17.50 per acre foot as our contract with PG&E stipulates.
Just a reminder, if you purchase water from PVID, please maintain a record of each irrigation, and stay in contact with your Water Tender. A calendar works well for logging the start date & time, and the stop date & time. Please remember, we require at least a 2 hour notice with your request to have your water turned off. This policy allows the water tender time to arrange moving your water to the next waiting customer.
We need more rain! As of 2-15-18 our total rain fall of 16 inches is well below the average.
Steven Elliott,
Superintendent
Potter Valley Irrigation District
Potter Valley Project Relicensing
In order to continue operating Lake Pillsbury, Scott Dam, and Van Arsdale Dam, along with the diversion that runs the Potter Valley Project 9.4 MW hydropower plant and provides water to the Potter Valley Irrigation district past 2022, Pacific Gas and Electric Company (PG&E) must obtain a new FERC license. At the current time PG&E is not proposing to add capacity or make any major modifications to the Project or its operation. The initial documents have been submitted and the process is underway. The Potter Valley Project is a critical water resource for Potter Valley.
A new group has formed, Water Solutions, that is closely following the relicensing process and the impacts of it on the Eel River and Russian River watersheds. You can sign up with them to get email updates with news about the relicensing, including updates on public comment periods.
On January 10, 2018, at 6pm in the Potter Valley School multipurpose room, the PVID Board will be hosting a public presentation detailing the project, the relicensing process, and how you can help. There will be opportunities for questions, and refreshments will be provided.
Documents relating to the process, including presentations shown at the March 2017 public meeting, can be found at http://www.pge.com/pottervalley. You can also find instructions there to be notified by email of FERC activity on this project, and this overview of the project that includes many historical and contextual images of the Project.
Scoping Document #2, which lists issues to be considered in the Environmental Impact Report, is now available. Read more on the Potter Valley Project Relicensing page.
page collects scientific papers, government reports, regulatory documents, and other relevant data and information for the Eel River and Russian River systems. In some cases, we have scanned or acquired papers that were not previously available in electronic format to make them available here, such as