Contact: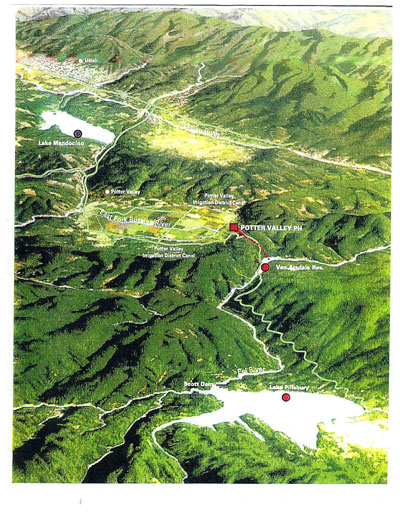 Potter Valley Irrigation District
P.O. Box 186
10170 Main Street
Potter Valley, CA 95469
(707) 743-1109
Board of Directors
Eugene McFadden
Ken Stroh
Janet Pauli
Jim McMenomey
Mac Magruder
PVID Superintendent: Steven Elliott
Secretary/Treasurer: Julie Paulin
Assessor/Collector: Patti Boatwright
Software programs used at PVID, posted per SB 272, last updated 7/30/2019.
QuickBooks
Water Program/Custom
Word
Excel
SB 272 printable page
SB 272 catalog
PVID Bylaws & Ordinances (PDF) (Jan 2018)
Regular monthly meetings of the Board of Directors are held on the third Wednesday of each month at 7pm at the district office.
---
Water Customer Letter from March 20, detailing water delivery status for 2014.
---
State Controller's Office: http://www.sco.ca.gov
Board Agendas
January 26, 2018 - Special Meeting for approval of FERC comments
January 10, 2019 - Special Public Presentation in Potter Valley
July 28, 2017 - Special Board Meeting for FERC comments
June 28, 2017 - Special Board Meeting for FERC comments
April 19, 2017 - Safety Meeting
October 4, 2016 - Special Board Meeting
July 5, 2016 - Special Board Meeting
May 12, 2015 - Emergency Board Meeting
May 11, 2015 - Emergency Board Meeting - 7pm
May 11, 2015 - Special Board Meeting - 9am
May 7, 2015 - Special Board Meeting
May 4, 2015 - Special Board Meeting
May 1, 2015 - Special Board Meeting
April 29, 2015 - Emergency Meeting
April 28, 2015 - Emergency Meeting
January 13, 2015 - Special Board Meeting
August 27, 2014 - Special Board Meeting
June 18, 2014 - cancelled due to lack of quorum
January 3, 2014 - Special Board Meeting
August 29, 2013 - Special Board Meeting
May 9, 2013 - All Boards IWPC Board Meeting
March 4, 2013 - Special Board Meeting
June 27, 2012 - Special Board Meeting
May 17, 2012 - Special Board Meeting for IWPC All-Boards