PVID Customer Profiles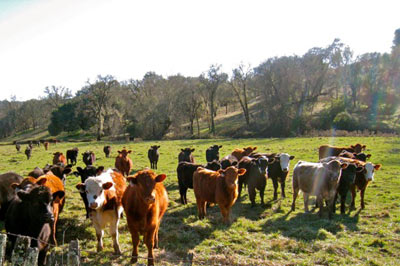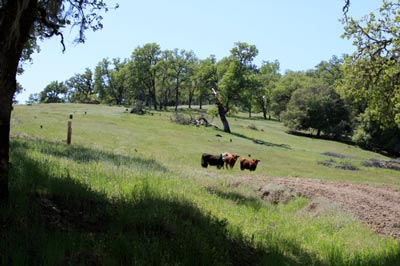 Ingel-Haven Ranch
Mac Magruder was born in 1949 and became the fourth generation to shape his family's property in Potter Valley. This region (home for thousands of years to the Pomo Indians), was settled by European Americans in the mid-1800s. These newcomers were predominantly farmers who introduced a variety of livestock that thrived on the landscape of oak-studded hills and rich river valleys. Mac's grandparents raised sheep on the 2300 acres they called Ingel-Haven Ranch; his father farmed pears and cattle. Mac grew up helping on the ranch, but went away to study ceramic sculpture in college and graduate school. In the late 1970s Mac's father fell ill and Mac returned to Potter Valley to take over management of the ranch. He chose to focus exclusively on a cow/calf operation, something for which Mac felt the land was especially suited.
During the past twenty five years Mac has become, in effect, a grass farmer, developing fertile pastures rich with naturally growing legumes and grasses perfectly suited to grow healthy cattle. Ingel-Haven Ranch consists of both irrigated pastures and open hill ground which provides year-round grazing for the cattle in a holistic rotational system.
The land is grazed and then rested an optimal amount of time for proper plant recovery. Ingel-Haven Ranch is among the livestock producing enterprises in the region that use sunlight and natural forage as its basis for a sustainable industry. The cattle (all born on the ranch or purchased from similar programs) are fattened on the ranch, processed locally, and then sold to restaurants, independent stores, and individuals, contributing to a local food system and local economy.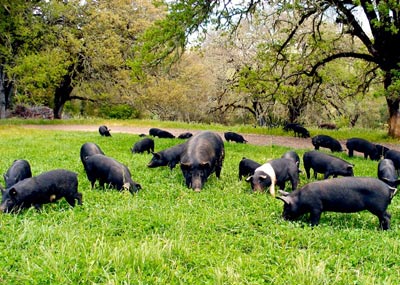 This is an exciting time at Ingel-Haven Ranch. The vision Mac has nurtured for the past 30 years is beginning to take shape, bolstered by consumer awareness and cultural movements like Slow Food. Mac and Kate, his wife of twenty-five years, were delegates to the International Slow Food Conference in Turin, Italy in 2006, joining 6500 other food producers from around the world to share ideas and best practices. Kate and Mac's oldest daughter Grace and her husband Ben have returned to Ingel-Haven Ranch to help develop a range of educational programs for children and families who are interested in learning about sustainable agriculture, local history and nature, and good food. His sister, Helen, (who currently directs an outdoor education program for the local school district) is also involved in shaping the future vision for the ranch as a place where people from the community and beyond will come to buy grassfed meats and perhaps stay awhile to learn about life on a 5th generation working ranch.