Eel River Cleanup 2011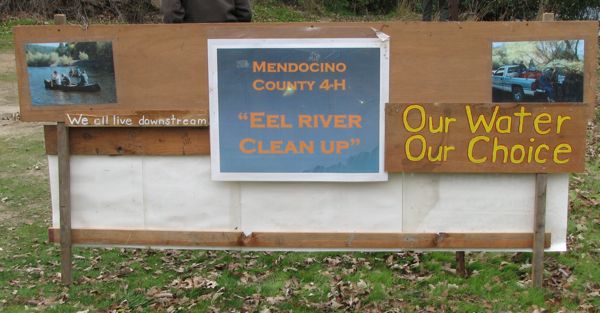 The 20th Annual Eel River Cleanup was a big success, attracting 114 volunteers from Lake and Mendocino counties who braved the rainy fall weather to come out and help the river. Organizer Beb Ware said that thanks to volunteer efforts, this section of the Eel River is "getting cleaner and and cleaner and healthier and healthier every year."
For the first time, the cleanup expanded into Lake County, covering a total of 26 miles of county roads and 12 miles of river. 27 tires, 10 1/2 cubic yards of trash, and a full pickup load of recyclables were sent to the Potter Valley Transfer Station. The trash collected included mattresses, auto parts, a toilet, discarded foam rubber, appliances, abandoned netting, and all kinds of general packaging and refuse.
PG&E provided lunch for all volunteers and made a $1000 donation to Mendocino County 4-H.